notify me contents

Ford Passenger Car Products Information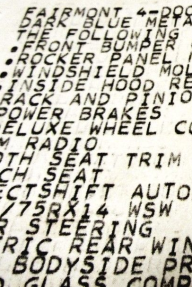 Ford style impact printer typeface
Impact Printer Reproduction Ford Passenger Car Information
We print customized impact printer printed Ford passenger car window stickers using vintage impact printers just like the forms were originally printed back in the day.
As of current, we can only produce a limited number of Ford Window Stickers because we do not have the correct impact printer used by Ford.

From 1959 through 1985 roughly, Ford predominantly used an impact printer that had a slightly different but noticeable typeface from those impact printers used by AMC, General Motors and Chrysler.
We don't wish to muddy the waters printing Ford Window Stickers using the wrong impact printer, so we are opting to only produce those that we can correctly produce as Ford did.
The Ford Window Stickers that we can produce using the correct impact printer are the 1965 & 1966 Mustangs.
If you wish to be notified when (if) we get the correct impact printer in our shop for other window sticker years, you can sign up for an e-mail alert below:
Click any of the links below to see the available custom online order entry impact printed labels we can do.
Shop Now . . . Ford Window Stickers
All product and company names are trademarks™ or registered® trademarks of their respective holders. Use of them does not imply any affiliation with or endorsement by them.
Shopping Cart
Checkout
Your cart is empty