"This vehicle conforms to all applicable Federal motor vehicle safety standards in effect on the date of manufacture shown above."
TL;DR version:
  The vehicle certification label (49 CFR 567) has requirements itself in design, content, and location where it can be placed on the vehicle and with it being present means that the manufacture of the vehicle claims that this vehicle is compliant with all the federal safety requirements (49 CFR 571.[100-500] e.g. side door impact, rearview mirrors, seat belts, etc. and with a little bit of work, you can find what requirements were in effect for your vehicle given the date of manufacture.
I think we've all seen one of these door decals in the door jam or on the door that says that. But what does this really mean to the average person? Probably not a whole lot. It didn't to me either. I think most people get the gist of what it obviously says, but what is it really all about?
There are two parts to the answer. The first is the Federal Safety requirement best stated like this (from http://www.accessiblewheelchairvan.com/):  "The National Traffic and Motor Vehicle Safety Act of 1966 requires that motor vehicles and regulated items of motor vehicle equipment manufactured for sale in the United States be certified to comply with all applicable Federal Motor Vehicle Safety Standards (FMVSS). The National Highway Traffic Safety Administration (NHTSA) does not not certify any motor vehicles or motor vehicle equipment as complying with applicable Federal Motor Vehicle Safety Standards (FMVSS). The National Highway Traffic Safety Administration (NHTSA) does not not issue type approval certifications. Instead, the manufacturer self certifies the vehicle or equipment item as complying with the applicable Federal Motor Vehicle Safety Standards (FMVSS)."

The second part is the Certification label. When the Certification label is present, it means the vehicle was manufactured according to the above paragraph.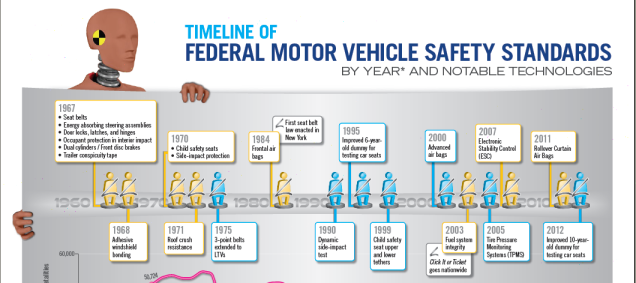 Graphic showing a condensed timeline with changes(Original three page PDF document here Timeline of Federal Motor Vehicle Safety Standards)
From this PDF you can briefly you can see the history timeline of safety standards implemented in date order and its corresponding FMVSS No., but seems to be lacking in good solid information on all the standards defined. So we have to look elsewhere for the details about the FMVSS number, but it gives you the idea.
The FMVSS numbers mentioned in the above PDF refers to the Federal Motor Vehicle Safety Standards (FMVSS) organized in 49 CFR Part 571 Subpart B (which you can find here FMVSS Standard Numbers). The FMVSS No. will specify the safety requirements of that item to pass Federal specifications.
What's that you say? We need to get some terminology out of the way!
CFR. CFR is the Code of Federal Regulations. The CFR is divided into 50 Titles or subsections by category that represent broad subject areas, i.e. Labor, Education, Food & Drug, Transportation, etc., all names we have heard in the news. This is a HUGE document where each agency of the government specifies their rules & regulations.
Title 49. Title 49 is a subsection of the CFR named "Transportation".
CFR Title 49, Part 571. Title 49 has a section named "Part 571 Federal Motor Vehicle SAFETY Standards". And it is under this section that each individual Safety Standard Number is found i.e. the FMVSS Number.
When you see for example a reference to "49 CFR 571.111" or "571.111" or "FMVSS 111", they all refer to the same thing. You just have to know that the full navigation path is CFR | Title 49 | Subtitle B | Chapter V | Part 571 | Subpart B | 571.111 !
Time for an example: FMVSS No. 111 Rear View Mirrors Requirement
This is FMVSS No. 111 "Rearview Mirrors". FMVSS 111 is found in 49 CFR 571.111, which translates into Title 49 of the Code of Federal Regulations Part 571, Standard No. 111 - "Rearview Mirrors". Once you locate that in the CFR, it will give you a complete background on its purpose, definitions, mounting, inside and outside mirror specifications, when they are required or not on a vehicle, and more. Here is a direct link describing FMVSS 571.111 Rearview Mirrors. Note: FMVSS 111 has lately been renamed as "Rearview visibility".
So that in a nutshell covers 49 CFR Part 571 - FEDERAL MOTOR VEHICLE SAFETY STANDARDS. It is a list of currently 67 standards a vehicle must comply with before it can get its ... Vehicle Certification label of compliance with its own label specifications that is covered under 49 CFR Part 567 - CERTIFICATION.
The CFR covering Part 567, 571 and others is updated yearly and what we read today is a cumulation of changes over time and the online versions of the CFR are available as far back to 1996. So for us who want to research period specific timeframes such as the 1960's through the 1970's, we have to do a little legwork. Older CFR printed and bound copies are found at a Federal Depository Library near you.

If you cannot or care not to track down a library copy of the CFR, the CFR is updated by amendments appearing in the daily published Federal Register. The Federal Register publishes proposed amendments and approved changes to the CFR. The Federal Register is available online as far back as 1936 and is searchable. You can use that to find changes to the CFR, or more specifically any FMVSS standard (note that In 1972 there was a renumbering Part 367 to now known as Part 567).

Briefly, the online searchable Federal Register works if you are looking for a specific Standard No., not all as a whole. To see the complete requirement at a specific year, you may have to start from like 1966 and roll forward and read the updates to that standard. The thorough route would be to view the published CFR book for each year found at a government library depository.

For example here are requirements for the Certification label for 1969 and later 1971 as found in the searchable Federal Register:
1969 Federal Register to specify the content and location for the certification label or tag (49 CFR 367)[PDF] Page 7032 (49 CFR 367 later renumbered to 49 CFR 567)
1971 Federal Register to require GVWR, GAWR, Vehicle Type to be added the certification label (49 CFR 567)[PDF] Page 7056.
And here is the Current Certification Label Requirements (for 49 CFR 567).
If you still have your original Certification door decal that came with your vehicle, you can use the month and year printed on it to search the Federal Register or view the printed CFR's at a depository. Some FMVSS standards are implemented during mid-year such as the requirement of adding the GVWR and GAWR that started Jan. 1, 1972.
That's probably more that what you wanted to know. But you now have a basis to start with in finding out the requirements your vehicle was built with from this Certification label.

Unfortunately I have not been able to find any material that will list the FMVSS numbers in date order like the graphic does which would be nice. A list of FMVSS standards and descriptions as of January 1972 can be found here Federal Register Vol. 35 No. 232 December 2, 1971 Page 22902.
Hopefully that was a bit entertaining and useful to others as I found it interesting myself for my needs
---
Quick References:

[link] FMVSS Federal Motor Vehicle Safety Standards This is an excellent overview the whole Federal Motor Vehicle Safety Standards program run by the Government. It is easy reading and when finished gives you a clear understanding of the program. Concise, easy and informative reading.

[PDF] Quick Reference Guide (2010 Version) to Federal Motor Vehicle Safety Standards and Regulations [PDF]. This is an excellent pamphlet published by the U.S. Department of Transportation. It is a combination of the Safety Standard numbers from Part 571 along with other relevant "Parts" of the CFR in a condensed summary format. I recommend this as the starting point in researching your vehicle safety standards quest. If you after reading this information, if you want the specifics of any summarized Part, then go read the details in the actual CFR document.

[link] The Complete Title 49 Transportation, of the CFR Online You can browse online all Parts that make up Title 49 Transportation, Parts 100-1699 in HTML.

[link] The Complete CFR Online You can browse the complete CFR document online in HTML.

[link] Browsable 49 CFR 571 - FEDERAL MOTOR VEHICLE SAFETY STANDARDS
[PDF] PDF 49 CFR 571 - FEDERAL MOTOR VEHICLE SAFETY STANDARDS
This is a specific link to CFR Title 49 Part 571 browsable or PDF of the CFR manual.

[PDF] National Traffic and Motor Vehicle Safety Act of 1966 [PDF] You can read the enacted law passed and signed by President Lyndon Johnson, 1966, 13 pages.
Copyright © 2022 gloveboxoptions.com, LLC. Unauthorized use and/or duplication of this material without express and written permission from this site's author and/or owner is strictly prohibited. Excerpts and links may be used, provided that full and clear credit is given to gloveboxoptions.com, LLC with appropriate and specific direction to the original content.